IN THE SPOTLIGHT:
EMAIL INTERVIEW WITH STEPHEN CAVALLINO, MD –PROLOTHERAPY IN ITALY
Email Interview with Stephen Cavallino, MD – Prolotherapy in Italy
(JOP Staff)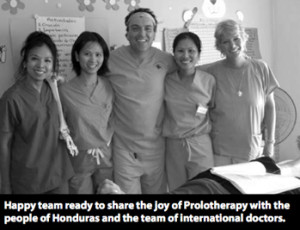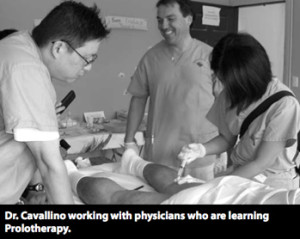 JOP: Dr. Cavallino, please tell us a little about your medical background.
Cavallino: My medical background: I am an Emergency Medical Physician. I was born in New York and went to medical school in Bologna, Italy. I have been working for more than 20 years in the ER and currently doing Prolotherapy for the past seven years in Italy with much success.
JOP: How were you introduced to Prolotherapy?
Cavallino: Thanks to the Hackett-Hemwall Foundation and Dr. Jeff Patterson, who came to Italy to give a Prolotherapy course.
JOP: What has your overall experience/impression been with Prolotherapy?
Cavallino: I am incredibly happy to have this amazing healing therapy to offer, known as "Prolotherapy." I am very lucky to have the opportunity to use this amazing regeneration injection therapy. Over 90% of my patients are pain free after several treatments. I think that this is amazing!
JOP: What types of cases do you feel respond best to Prolotherapy?
Cavallino: I see very good results all over, but the knee and shoulder are very promising. I also have incredible results treating the spine and hip joints. Tendinopathies are great responders to Prolotherapy, but you need to do it correctly.
JOP: Do you perform other procedures for pain, and if so, what types.
Cavallino: I do "Neural Prolotherapy" and I am so shocked how it works. All we are doing is regenerating the nerves that have been suffering for a long time. Very successful if used in association with Prolotherapy.
JOP: Can you estimate the percentage of your patients that receive Prolotherapy?
Cavallino: All my patients receive Prolotherapy, and Neural Prolotherapy if needed. I do only these two pain procedures.
JOP: What type of Prolotherapy solution do you use?
Cavallino:ONLY glucose/lidocaine/saline (sugar water).